No Surprise Bucs Have Many Doubters
May 14th, 2013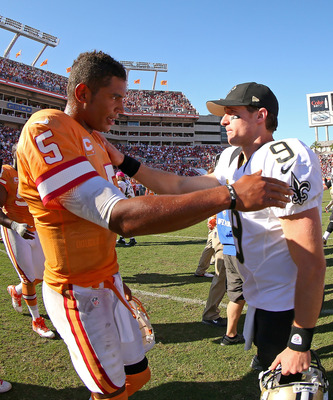 There are plenty of experts on the record already calling the 2013 Bucs at least a 10-win team.
But it should be no surprise that the money gurus in Las Vegas and other NFL analysts doubt the Bucs will win more than seven games this season. Tampa Bay Times columnist Gary Shelton explored the heavy-hitter doubters in his column today.
And on and on it goes. Brian Billick, the ex-Ravens coach, has the Bucs 20th in his post-draft power rankings on fox.com. ESPN has them at No. 19. And Bovada, the betting site, has them at 50-1 to reach the Super Bowl. It has 19 teams as a better bet. Cbssports.com had them at 20th before the Revis trade.
Here's where Joe stands. Joe believes the Bucs have a very legitimate win-now offense, meaning the necessary talent is there to be a playoff-caliber unit. Plus, the overall production was there last year, and the offense should advance in its second season in the regime. On defense, the Bucs have three Pro Bowlers in their prime, assuming Darrelle Revis is healthy, and some excellent young players. Overall, the special teams are above average.
This should be an improved Bucs team in the win column.
However, the Bucs coaching staff has a lot to prove. Nobody can tell Joe that Greg Schiano and his coordinators are proven game coaches, and especially when compared to Mike Smith and Sean Peyton and their NFC South staffs. That's a huge Bucs question mark.
The Bucs also have massive depth concerns on defense and they're gambling they won't be tested.
Again, as of today, Joe believes the Bucs should be an improved team in 2013, but Joe surely wouldn't wager on them having a better record.
Ten out of 16 NFC teams had better records than the Bucs did last year. Joe's not sure how many of them the Bucs leapfrogged this offseason.