Adding By Subtracting Adam Hayward
May 31st, 2013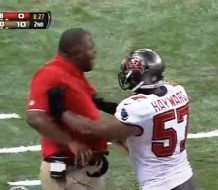 Joe was a guest last week on Joe's good friend Derek "Old School" Fournier's Internet radio show, you know, of WhatTheBuc.net fame.
Without trying, Joe rankled the host during this show.
"Old School" asked Joe about the linebackers and Joe stated, as he has written before on this very corner of the interwebs, that the only thing Joe can remember linebacker Adam Hayward contributing to the Bucs is going all-MMA on his position coach Bryan Cox on the sidelines.
"Old School" got angry with Joe and started to chew him out, to which Joe responded, "Name a play that Adam Hayward has made as a linebacker?"
So Joe asks his readers the same: Name a play Adam Hayward has made as a linebacker? At least Quincy Black, even when he was struggling terribly at strongside linebacker before he got coached up by Cox, would have an interception now and then.
When weakside linebacker Geno Hayes stunk (when not playing with scissors or playing tough guy with security guards at a nightclub); when Black was terrible, when middle linebacker Mason Foster was overwhelmed as a rookie, Hayward still couldn't break the starting lineup. What does that tell you?
A weak link on the Bucs defense is strongside linebacker, a position where many fans assume Hayward is listed atop the depth chart.
This is not lost on the co-hosts of "Movin' the Chains," Pat Kirwan and Tim Ryan, heard exclusively on SiriusXM NFL Radio. In breaking down the Bucs Thursday, per the request of a former Bucs season ticker holder, Kirwan and Ryan suggested the Bucs' defense would be better off if someone beat out Hayward for the starting job at strongside linebacker.
Pat Kirwan: Who is the starter who I would like to see lose a job to make the team belter? On the defense… this is not being down on a guy. This is about your team gets better when there is competition and when there is a guy penciled in as a starter loses his job because someone emerges as better.

Let me ask you one more while we are on [the defense]. Is there anyone that can handle Adam Hayward? Or is Adam Hayward just good enough to stay there? I love Lavonte David, and Mason Foster has weathered the storms. After the first year they were wanting to get him out of the middle.

Tim Ryan: I think Adam Hayward is a special teams player. I think Jonathan Casillas, the guy they got from New Orleans can certainly get in there and battle with him and certainly Dekoda Watson is a wild card. I think both of those guys have as good of an opportunity as does Adam Hayward to man that third linebacker spot.

Kirwan: I agree with you.
Look, this is not a knock on Hayward. He's been with the Bucs since 2007. But honestly, if a Bucs fan has to struggle to remember Hayward making any impact plays at linebacker in six seasons, five games starting at strongside linebacker last year, Joe believes it is fair to suggest the position is ripe to be upgraded
And, hey, if Casillas and Watson — part of Bucs coach Greg Schiano's coveted competition at strongside linebacker — push and motivate Hayward to play better and earn the starting spot, it's a win-win.