Mark Dominik "Excited" About Penn's Work
May 30th, 2013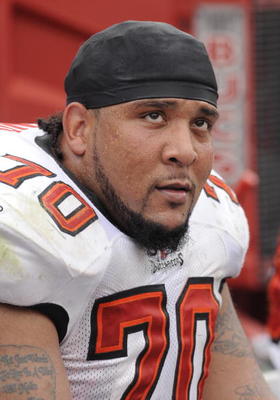 After Fatgate exploded over the holiday weekend, when a report surfaced suggesting Bucs Pro Bowl left tackle Donald Penn may not be around One Buc Palace after 2013 because he's too fat, none other than Bucs rock star general manager Mark Dominik weighed in (pun intended) on Fatgate after the Bucs OTA practice Wednesday.
In short, Dominik is happy with Penn and believes a playoff berth may just get Penn to eat pineapple again (and maybe loads of pork at a Hawaiian luau.)
Remember Dominik haters, it was Dominik, as the Bucs pro player personnel director, who targeted Penn off waivers when the Vikings cleaned their plate of him.
"I have been with Donald since he has been here as a member of the organization and I am very excited about what he has done in the offseason and what he has done in terms of his conditioning," Dominik said. "Looking forward to a great season from him.

"I am sure [the inaccurate report about his weight] is disappointing to Donald. All I can tell you is what he had done and what he is doing is right on par with what [we] had hoped. I think everything else has been exaggerated.

"I thought [Penn had] a pretty good season. We were 7-9 as a team so it wasn't enough, right? I am sure we are all looking to get this team back in the playoffs."
This should put to rest all the chewing of the fat about Fatgate and the possibility that Donald Penn will eat himself out of a job.
As Joe has stated before, if Penn is not on the Bucs roster in 2014, it will be because of the size of his contract, not the size of his belly.