Will Revis Get Bulk Of Cash Up Front?
April 21st, 2013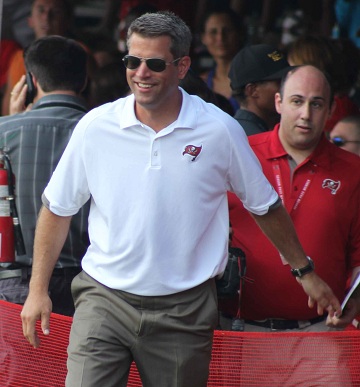 The Bucs have piles and piles and piles of cash to pay Darrelle Revis under the 2013 salary cap — in the neighborhood of $33 million.
Word on the street says Revis is demanding a ridiculous $15 million annually. Now Joe finds it complete insanity to pay Revis such a ransom. However, Joe thinks it's much more reasonable if the Bucs can take a large cap hit in 2013, and then pay Revis more reasonable money going forward.
If the Bucs coughed up, say, $25 million for Revis this year, that still leaves money to sign draft picks, Ronde Barber and another cornerback off the street.
In that scenario, the Bucs could potentially be on the hook for Revis another $10 million in 2014 and, say, $5 million in 2015, assuming Revis commanded $40 million guaranteed in total.
That's not so scary, and it surely wouldn't prevent the Bucs from re-signing their own players. Josh Freeman and Gerald McCoy already are slotted to make around $10 million each this season.