Dominik Puts Bucs Career On The Line
April 21st, 2013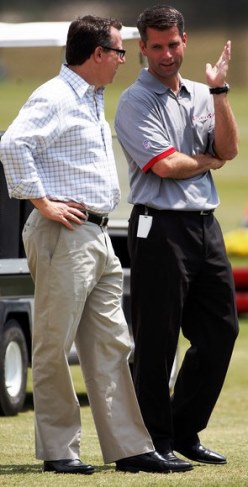 Joe doesn't care who the NFL general manager is. If a GM is going to trade a first-round pick for a cornerback recovering from knee surgery, and pay said player an unprecedented pile of cash, that executive has put his career on the line.
It's just that simple.
News broke this morning that rockstar general manager Mark Dominik has done just that, with he and the Jets finally agreeing to some sort of terms of a deal that includes the Bucs' 2013 first round pick and more, so reported BSPN.
No, Dominik is not married to Josh Freeman or Gerald McCoy. He's now wedded to Revis, and the wedding cost a bundle, like one of those wine-snob, black-tie deals at the Don Cesar Hotel.
Revis must make a massive impact, more than, say, signing the top two corners on the market this offseason and holding on to draft picks — and still having money to spare.
Good luck, Rockstar. Team Glazer said it will think "short term" when you think "short term," and this Revis trade is a clear cut short-term move.