Will Revis Bring More Blitzes?
April 21st, 2013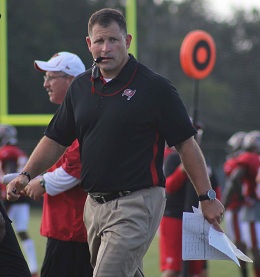 Assuming Darrelle Revis passes his Bucs physical and is healthy enough to play on opening day, Joe's wondering whether Revis dropped into the Bucs defense will mean the Bucs will blitz like they did last season, like sweaty landscapers attacking a Chinese buffet at lunchtime.
Unless the New Schiano Order really has a change of heart and/or DaQuan Bowers and Adrian Clayborn emerge as impact pass rushers, Joe thinks the Bucs will continue to blitz like rabid dogs.
Revis had loads of success with the Jets in a scheme that blitzed and left him on an "island." With excellent safeties, Eric Wright (yes, Joe cringes while typing his name), and Ronde Barber (hopefully), Joe can't imagine the Bucs playing more a more patient brand of defense like they did successfully against Atlanta to close the 2012 season.
Defensive coordinator Bill Sheridan made it crystal clear to media last season that he was running Greg Schiano's defense.
It was Schiano that wanted to bring massive amounts of pressure — except for the repeated misguided use of a three-man rush — and Joe's not sold Schiano had a blitz-first philosophy because of third-rate cornerbacks. Aqib Talib and Wright were torched often, too.
Schiano wants to blitz, and with Revis he'll have even more confidence to do so.