What Is Donald Penn Getting At?
April 9th, 2013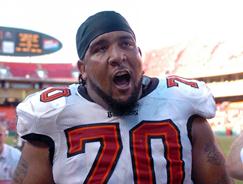 Bucs stud left tackle Donald Penn is one of the coolest guys in the Bucs' locker room. And recently he signed up for Twitter and has been a Twittering fool.
If you happen to be a Lakers fan in addition to a Bucs fan, Penn is a must follow.
This afternoon, Penn seemed to be teasing Bucs fans claiming there is some big news ahead.
@DPENN70: I just heard some good news Bucs fans y'all will find out soon and it has nothing 2do with Revis but will help our team out a lot #trustme
So if this isn't Revis, what could it be?
Did Bucs rock star general manager Mark Dominik swing a trade for a corner other than Darrelle Revis?
Did Dominik sign a right tackle?
Did Dominik trade for a tight end?
Or, what may be more likely, has graybeard Bucs legend Ronde Barber made his decision to return to the Bucs?
The plot thickens.
UPDATE: Donald Penn sent out another Twitter to clarify his previous statement and suggests the "good news" does not involve Ronde Barber.
DPENN70: Dang I didn't know it would do this but here is a hint has nothing 2do with the GOAT Ronde Barber as far as I know he is still undecided
Could it be that Mike Williams signed an extension?
And no, "GOAT" does not mean Sabby the Goat, but is an acronym for "Greatest of All Time."