Bucs Retain Eric Wright; Restructure Contract
April 9th, 2013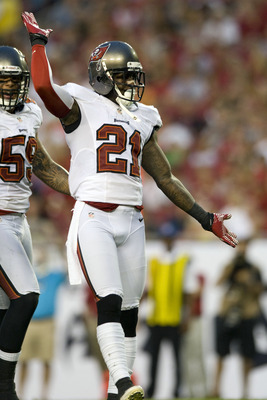 Bucs rock star general manager Mark Dominik has retained troubled cornerback Eric Wright for another year, the team announced in a press release this evening.
Wright's contract was restructured, per the press release. Details were not included.
So consider this Dominik's first shot across the bow at the Jets who are trying to fleece the Bucs for multiple picks, including this year's overall No. 13 pick, for cornerback Darrelle Revis.
As Joe has stated many times before, the Bucs have all the leverage in trying to obtain Revis. Jets general manager John Idzik's jewels just got tighter in the vice.
Now if the Bucs draft a pair of corners in the draft, as Joe stated yesterday, watch the price for Revis drop like the price of Easter candy in May.
The Jets need to trade Revis more than the Bucs need to obtain him.
It's also clear Dominik thought Wright was as talented as any of the free agent corners on the market.