Toes On The Line Returns Monday
April 13th, 2013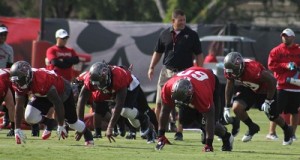 With all the draft chatter and Darrelle Revis buzz flying around, it's easy to forget the Bucs have other important things going on, such as reporting back to work Monday.
Yes, the 2013 offseason training and conditioning program launches in two days. And the anniversary of the Toes On The Line legend is near.
Greg Schiano has implied that he will slightly loosen the tight leash he has on all aspects of Buccaneer life — in select areas. However, Joe's not about to bet on that. In fact, Joe wouldn't be shocked if Schiano, in total, kicked his controlling ways up a notch, especially early in the 2013 grind.
Schiano must find a way to raise expectation levels, and Joe suspects Schiano only trusts one way to do that.