More Buzz For Tavon Austin
April 15th, 2013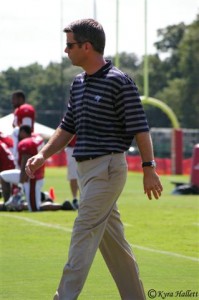 Jimminy Christmas! The Bucs don't need to invest heavily in another wide receiver, especially when one studies the numerous, high-priority holes on the roster.
But those details won't stop the buzz around West Virginia wide receiver Tavon Austin wearing pewter and red.
Olive oil-lapping, popcorn-munching, coffee-slurping, homeless-mistaken, fried-chicken-eating, oatmeal-loving, circle-jerking, beer-chugging, cricket-watching, scone-loathing, college football-naïve, baseball-box-score-reading Peter King, of Sports Illustrated and NBC Sports told the world today that the Bucs are smitten with Austin.
At 13, Tampa Bay is growing impatient with the Jets on this Darrelle Revis trade. What I'm hearing is the current discussion is first-, third- and fifth-round picks for Revis, though I don't know which picks are this year and which next. If the Bucs stay put, they love Tavon Austin
Now Joe's already explained that Austin makes little, if any, sense for the New Schiano Order. There's only one football to go around, and Josh Freeman has plenty of weapons. And Joe knows Greg Schiano yearns to run the ball more often than he did last season.