Mike Jenkins Is Not A Buccaneer Man
April 1st, 2013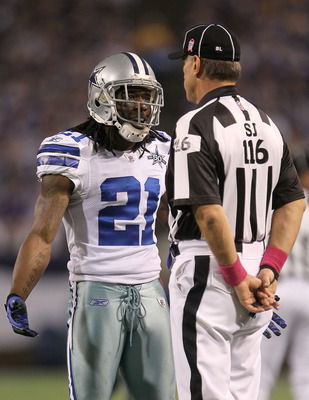 Joe is asked this all the time and Joe just cannot figure out why so many Bucs fans have a fetish for cornerback Mike Jenkins, who is nearly as allergic to tackling as Joe is to peanuts.
The former Cowboys corner is on the open market for good reason but rarely does a day go by that Joe isn't asked about the guy?
Why, is Stanford Routt not good enough?
It seems Joe is not the only media member covering the Bucs who is pestered about Jenkins. So too was Woody Cummings in a recent TBO Bucs Q&A.
Q: I do think that the Bucs will be able to eventually get a Revis deal done before the draft takes place in April. How do you feel about pairing him with Mike Jenkins? He did go to USF and people forget that he was injured the year before the Cowboys drafted Claiborne, and he was becoming one of the better corners in the NFC.

— Keith, Baltimore

A: I think the Bucs would like to pair Revis with a young corner but not necessarily Mike Jenkins. My guess is they'd rather pair him with someone they pick up in this year's draft, so I would look for that to happen before I'd look for them to go after Jenkins.

— Woody Cummings
Look, there is a reason last year the Cowboys went out and signed a top free agent corner available, and then drafted a corner in the first round. Jenkins, to be polite, is a terrible tackler. Though the infamous video has been scrubbed from YouTube, it was a play in a close game when Jenkins pulled up rather than attempt a tackle short of the goal line. As one can imagine, Cowboys fans erupted in outrage.
There are other soft-tackling attempts Jenkins has been guilty of that can be found on YouTube, including an excellent anti-Jenkins rant from a Cowboys fan, replete with Jenkins routinely getting toasted with evidence from said Cowboys fan.
No, there's a reason Jenkins is still looking for work. And Bucs coach Greg Schiano's cardinal sin is not tackling.
Unless Schiano suddenly doesn't care about tackling, or is beyond desperate for a corner, don't expect Jenkins to be missing tackles on the field of the Stadium on Dale Mabry Highway.