Derrick Brooks: David Is Ahead Of Me
April 1st, 2013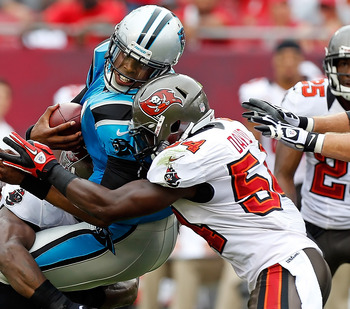 Bucs icon Derrick Brooks is perhaps the only guy who should/could say Lavonte David is a more impressive young weakside linebacker than he was.
And that's exactly what Brooks said late last week on WDAE-AM 620.
"I'm very surprised that he stepped up as early as he did," Brooks said of David. "And I shared with him in numerous conversations last season about how far ahead at this point in his career that he is than where I was. He was calling signals. He didn't come off the field. My rookie year I didn't call the signals. I didn't say anything, and I didn't play on third down as much. But he played every snap of defense and that was a lot put on him."
Brooks went on to say he expects David to continue as the Bucs' premier playmaker on the Bucs' front seven.
The Bucs hit a triple in the draft last year, with David, Mark Barron and Doug Martin. Joe would settle for a double this year. A new pair of hardcore rookie talents on the Bucs would make them downright scary.