John Idzik Stonewalling Trade Talks With Bucs
April 8th, 2013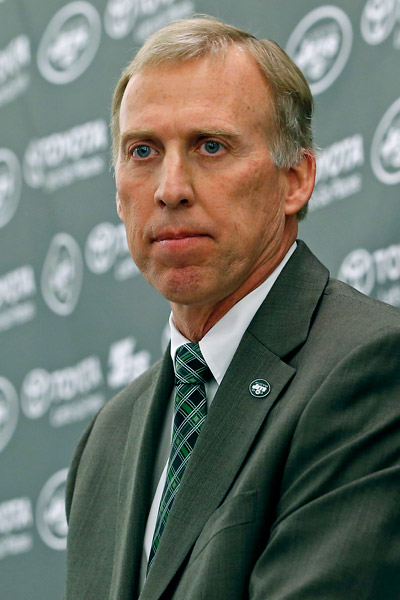 Yes, Bucs fans who want Jets cornerback Darrelle Revis on the Bucs roster aren't tied up in what the compensation will be and, in fact, want Revis in Tampa Bay now!
Those fans will have to find a hobby in the coming days, as Jets general manager John Idzik is in no hurry whatsoever to consummate a deal with the Bucs. That's the information dropped by Jets beat writer Conor Orr, who types for The Star-Ledger located in the Garden State.
Orr was a guest on the dreadful NFL AM show on NFL Network, a show that to the bewilderment of Joe, spends more time talking about how NFL players dance than how NFL players, you know, play football!
(Column intermission: Please, powers that be at the NFL Network, will you just STOP IT with this fetish for dancing! We, red-blooded football fans of America, turn to your beautiful network to gain information about our beloved sport and could not care less how an NFL player dances, nor do we give two rats' arses about his touchdown celebrations. Only the E! Network, MTV and Entertainment Tonight types are interested in this schlock because they, kind sirs, are not football fans. In the immortal words of Chucky, knock it off! If the only way to keep Nicole Zaloumis' attention is to waste hours and massive amounts of electricity a day on this subject, then Joe dares to suggest it is time to get a new co-host, specifically promote Molly Qerim to the gig. At least she's a football chick — in addition to being dropdead gorgeous.)
Mark Kriegel: Conor, what are the Jets holding out for? Is it really a matter of this year's first round pick [from the Bucs]?

Conor Orr: It could be. I definitely know Idzik wants compensation in this year's draft and it seems Tampa Bay is kind of pushing things towards 2014 just because they have a really high 2013 pick. I think that is what [Idzik] is waiting for but at the end of the day, it is how he does business. He is very slow. He is very pragmatic. At the end of the day this is the biggest decision he will ever have to make as the Jets general manager. So he is trying as hard as he can to get the best compensation to maybe even [delay] some time in order to pull out another suitor. Apparently that is why this process is taking so long.
This is why Joe believes Bucs rock star general manager Mark Dominik has all the cards. If the Jets don't trade Revis by the trade deadline of the 2013 season, he walks out on his contract. By the time August rolls around, teams will have their salaries budgeted. Teams aren't going to be able to just find $12-15 million in cap space like the Bucs have to make room for Revis starting in 2014.
And if the Bucs draft two corners in the first three rounds, Idzik is totally boxed in by Dominik.