Report: Dominik Is Yahoo! Mole
April 8th, 2013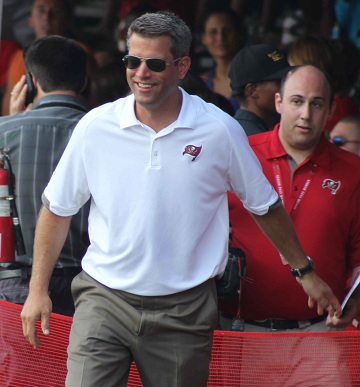 The angling, intrigue and mystery of the expected Revis-to-Bucs trade doesn't confuse PewterReport.com chieftain Scott Reynolds. He was on 98.7 FM this morning proclaiming loudly and proudly that rockstar general manager Mark Dominik is the unknown source beyond the latest twist in the Revis saga.
Reynolds said Dominik was the driving force behind Jason Cole, of Yahoo! Sports, penning some specifics on trade talks.
"I'm sure [Dominik] had a phone call to Jason Cole," Reynolds said this morning. Dominik is "very good at using the media."
Here's Joe's need-to-know from Cole's story.
The Buccaneers are not only willing to trade a combination of a first-, third- and sixth-round picks for Revis, they are also willing to pay the corner in the area of $15-16 million per year on a long-term contract.

Idzik, who did not return a text message sent to him by Yahoo! Sports, has been coy about trading Revis. He has repeatedly said he is not "actively" trying to trade Revis, though multiple teams have said he is willing to listen to offers.
First, with all the BS flying around about Revis, it's an extraordinarily bold claim from Reynolds to say Dominik is Cole's unnamed source. After all, it was Cole who was so certain, via multiple sources, Aqib Talib was going to serve a four-game suspension in 2011, for his role in the gunfire that arose from a family squabble in Texas. The NFL did nothing, and Talib's charges were dropped a year later.
Second, Joe doesn't believe the Bucs will pay Revis anywhere in the neighborhood of $16 million annually on a long-term deal.
That's just wacky talk when the top corner on the market this offseason scored about $6 million per year. Joe could see Revis scoring three years guaranteed from the Bucs at $12 million annually. That makes Revis the top-paid corner in the league by a solid margin — from the organization that repeatedly has said it won't overpay for players.