Dungy Picks Rush Over Revis
April 12th, 2013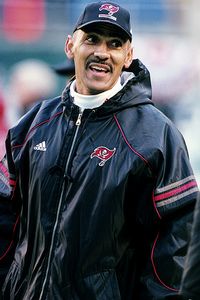 Father Dungy talked about Darrelle Revis' potential value to the Bucs yesterday, but it was clear that Dungy wouldn't make a massive investment in Revis if he were running the Bucs.
Speaking on WDAE-AM 620, Dungy explained his pass defense philosophy.
"I always looked at it the other way. I thought that best way to play, within the rules now and how things are set up, is to get a great rush," Dungy said. "It's tough to cover, no matter who you are, but if you can rush and pressure and force off-target throws, I always felt that was the best pass defense."
Dungy went on to say the Bucs need to let their young defensive ends prove themselves.
"You have to give guys a chance to come on," Dungy said, recalling Warren Sapp coming off the field on third down during the Sam Wyche era.
Interestingly, Dungy said he was at One Buc Palace chatting with Greg Schiano on Wednesday, and Dungy praised Schiano's team-building philosophy.
You can catch the entire interview below.