B.W. Webb A Potential Sleeper
April 11th, 2013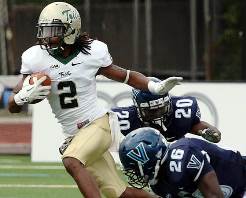 Yeah, Joe knows what's coming from the SEC elitists. "Who the hell is "B.W. Webb?"
From the research Joe has done, he could be a hidden gem. A cornerback from William and Mary, Webb shined on the Division I-AA level. Playing in the Colonial Athletic Association, Webb was All-Conference three times.
Webb, as he told Joe and other members of the fourth estate at the NFL Scouting Combine, is getting acquainted to playing on a higher level.
"I'm warming up to it, getting used to it," Webb said. "I got a taste of it at the Senior Bowl."
It was there that Webb took care of himself on the field, hanging with the big boys, even played well in man coverage against some of the top wide receivers in this month's draft.
"I had some good feedback," Webb said of coaches and scouts at the Senior Bowl. "They told me I played very well during that week, caught punts really well, and they liked the fact that I did punt returns.

"It showed that I do have the confidence and I can play against anybody that you put me on the field with."
Webb, too, learned that he has to work on his weaknesses to shine on the NFL level.
"I wouldn't call them weaknesses, but I would say biggest thing for me to improve on is my tackling," Webb said.
Webb is a little dude, 5-10, 185. While he can play with top receivers, the need to improve tackling may sink him with Bucs coach Greg Schiano.
Joe wouldn't be shocked if Bucs rock star general manager Mark Dominik drafted three corners in the draft, which begins in two weeks.
While Webb could be a late second day or an early third day pick — veteran scout Chris Landry rates Webb as a late second-rounder — Joe isn't confident Webb will suit up for the Bucs during rookie camp next month.