A Potential Stumbling Block To Luring Revis
March 7th, 2013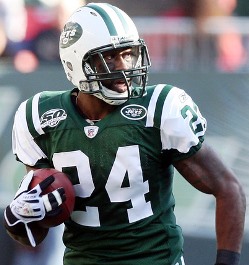 It was all over the Twitterverse when popular sports radio personality Adam Schein, co-host of "The Blitz" with former Super Bowl quarterback Rich Gannon on SiriusXM NFL Radio, Twittered and spoke on the air yesterday about how two NFL GM's told him the best possible landing spot for Jets cornerback Darrelle Revis was in Tampa Bay.
Yes, with the salary cap space, the dire need of cornerbacks, and draft picks to pay off a ransom to the Jets in a trade for Revis, on paper, the Bucs seem like the perfect spot for Revis to play next year.
But hold up! Gannon suggested there is a significant roadblock in the Bucs trying to acquire Revis.
The roadblock? Josh Freeman.
"There is talent there," Gannon said of the Bucs. "But they have to get better at the corners. You look at Darrelle Revis, they have the money to spend in Tampa. I guess if you are Revis, you have to say to yourself, 'Do I believe in Josh Freeman? Do I really believe with Josh Freeman we can win and we can win big with this type of quarterback?'

"Is he the quarterback he was [in 2010] or is he the player he was last year when he didn't play his best football and of course the accuracy and the completion percentage and the decision-making and interceptions continued to haunt Josh Freeman."
It is an interesting thought. Revis, who is entering the final, could refuse to sign a new contract and bolt from his (potential) new team after one season. He has a clause in his contract that he cannot be franchised.
Revis wants to play for a contender. The Jets are far from that right now.
Yes, Josh Freeman nearly led the Bucs to a playoff berth in 2010 when the Bucs were robbed of said playoff berth on a phantom offensive interference call on Sgt. Winslow against the Lions. That took points off the board in a game that went to overtime where the Lions upset the Bucs. The Bucs finished tied with Green Bay but lost the playoff berth in a tiebreaker. The Packers eventually won the Super Bowl.
Since, Freeman, to be polite, has been inconsistent at best
So the chance of the Bucs having Revis long-term may just come down to one question: Does Revis trust Freeman?