NFL GMs: Bucs Best Fit For Darrelle Revis
March 6th, 2013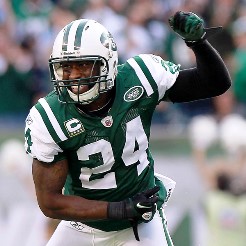 Leave it to Adam Schein to get Bucs fans all worked into a lather on Twitter.
The popular sports radio personality, in his final week of co-hosting "The Blitz" with Rich Gannon on SiriusXM NFL Radio, did a bit of homework today and for Bucs fans, it was as if Schein announced Santa Claus was about to park his sleigh, replete with reindeer, atop One Buc Palace.
While discussing the future of Jets cornerback Darrelle Revis, Schein threw this juicy nugget out on Twitter in the midst of his show:
@AdamSchein: I asked 2 NFL GMs via text what is the best and most realistic fit for Revis. Both had interesting same answer. Tampa.
While this would be a bold move by Bucs rock star general manager Mark Dominik, Joe is of the belief the Bucs could get more by spending less, in other words, forget about Revis, who is coming off an ACL injury.
Dominik potentially could sign Derek Cox and Dashon Goldson and still be able to keep the Bucs' draft picks.
Pat Kirwan, who co-hosts "Movin the Chains," along with Tim Ryan, also exclusively heard on SiriusXM NFL Radio, said yesterday Revis was "the most untradeable player" in the NFL given how much ransom it would take to pry him away from the Jets; Revis has but one year left on his massive contract and he cannot be franchised due to a clause in that contract, and no one knows if he can come back 100 percent from his ACL injury.
Unless Revis agreed to a contract prior to a trade, and the draft pick(s) is conditional, there is no way Joe would touch Revis. Trading draft picks for Revis and having him walk away after one year is basically throwing draft picks away.
And, no, Joe is not convinced the Bucs are just one shutdown corner away from making a Super Bowl run. If Revis was the final piece to a puzzle of playing in February, Joe would have a different take on this potential trade.