"Mort" Talks To Joe
March 7th, 2013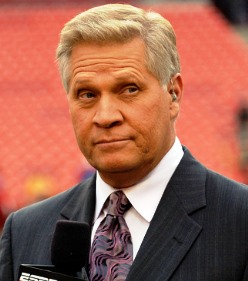 For the first time Joe can remember, famed NFL insider and all around good guy Chris Mortensen of ESPN took a few moments to talk football and the Bucs with Joe at the NFL Scouting combine.
JoeBucsFan: Last year the Bucs went, in a manner of speaking, from worst to first. A year ago they had the worst rush defense and in the first year of the New Schiano Order had the best rush defense, really only adding one player, Lavonte David. Was the turnaround in the rush defense just a sign that the new coaches had a clue to what they were doing?
Chris Mortensen: Yeah, I mean, it was also another year for a lot of those guys. Obviously David is a pretty good player. Listen, it is guys maturing, guys understanding what the league is all about and coaches developing those players. We've always said part of the draft is you evaluate a player, you select a player and then you develop that player. So, they were in the middle of that process. I don't know if that is on the previous coaching staff or that it really was better coaching this year in terms of technique and schematically. Obviously, in the pass defense, it has to get better.
Joe: To your point about players getting another season under their belt, Gerald McCoy, his third year in the league and finally a full season healthy, showed why Mark Dominik drafted him third overall.
Mortensen: Oh, yeah. Gerald was one of the great revelations this year. OK, now we know what you were talking about so much a couple of years ago here in fact. Here was the guy we saw and projected and if you remember the argument was, 'who was the best defensive lineman, Ndamukong Suh or Gerald McCoy?' I think Suh had the most underrated year…
Joe: Oh, really?
Mortensen: … Yeah, Suh actually had an outstanding year, an All-Pro kind of year, but we didn't recognize that because of all the controversy swirling around him. But we know Gerald McCoy stepped up his game.
Joe: About the pass defense, not so much about the Bucs but about the NFL as a whole. Have offenses really leapfrogged defenses that much of late that there are so many teams so desperate for that shutdown cornerback? Or is it just the fact that kids down in high school would rather be receivers than cornerbacks so the pool of decent cornerbacks in the college ranks is already thin to begin with?
Mortensen: Corners are just wide receivers who couldn't catch the ball (laughs). No, listen, the spread offenses, you are having to cover three and four receivers now. And now, most tight ends are really just big wide receivers. That's why this draft, being a safety draft [with guys] who can cover tight ends is pretty good. The other thing is, the fact the corners are at a disadvantage because of the rules and the application of the rules. It is designed for offenses to thrive. The league wants the ball in the air. That is why the Super Bowl ended on a controversial play because they didn't throw a flag. They are throwing flags in the regular season.
Joe: About Greg Schiano, would you consider his first year a success? Because for the longest time, a college coach going to the NFL was taboo.
Mortensen: To me it me it has always been about, did the guy have some NFL experience? Greg had been in the NFL, sure, limited experience but he had been exposed to the NFL. So I would say that is one thing you look at. When you look at Greg Schiano, did he rub some people the wrong way? Yeah. Does he care? No! And he shouldn't care. He has to run his program his way. It is a way a lot of guys have been successful with. The Belichick way. The Tom Coughlin way. The Parcells way you might say. He has an idea what he wants and what he demands. I think he proved for the most part he was pretty competitive and you expect the Bucs to get better. So Greg is a smart guy and, listen, it is funny. I mentioned this league is set up for the offense to have so much success but he still understands it is a physical game. The Bucs teams under Greg Schiano will be physical.