Michael Smith Will Struggle To Make 2013 Roster
March 7th, 2013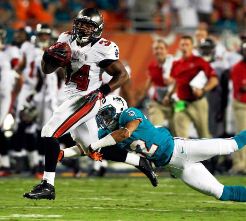 Joe wasn't moved to write about this subject until Tampa Bay Times Bucs beat writer Stephen Holder typed up a bunch of theories on the Bucs backfield. Joe was a bit surprised by some.
One bizarre take goes to this one on Michael Smith, captain of the inactive list.
Smith didn't play last season, a frustrating experience for the 2012 seventh-round draft choice, but don't make assumptions about him based on that. I always got the sense the Bucs never intended to play Smith last season. Public and private statements from Greg Schiano and Mark Dominik suggest he very much is a part of the Bucs' future plans.
For Joe, that makes no sense. First off, Smith did play last season. He was the Bucs' opening day kickoff returner. He was No. 1 on the depth chart and returned three kickoffs, but the New Schiano Order saw something it didn't like, whether that was on the field or in practice, where Joe was told Smith had ball security issues early in the 2012 campaign. Despite the need, the Bucs gave up on Smith as a return man, an area where they were desperate by NFL standards.
Also, it's impossible to say Smith is part of the Bucs' future, especially under a coaching staff that wants a bell-cow back system. Yes, Joe's heard the loving comments about Smith from the Bucs' brass, but like Derrick Brooks, Joe is not inhaling.
Smith turns 25 in August, and the Bucs shut him down after one game. Keeping it real, it's going to be tough for Smith to make the 2013 roster. Not every team keeps four running backs.
Smith could be a practice squad target for the Bucs, but the problem is he's unlikely to stay there. Smith is a west coast guy, who went to college in in Utah, and the Bucs have a dominant running back who is younger than him (Doug Martin). That's a recipe for Smith to jump at an offer to join another team's practice squad for a better opportunity closer to home.