More Dunta Robinson Chatter
March 5th, 2013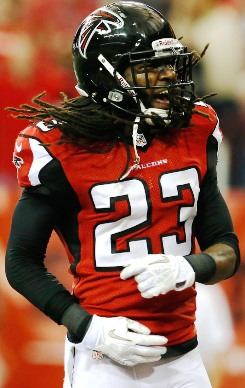 Joe is starting to run out of analogies to explain the Bucs' needs for cornerbacks. Really, being just a handful of yards from owning the worst pass defense in NFL history really says it all.
So cornerbacks was a major topic of conversation when Bucs beat writer Woody Cummings of the Tampa Tribune dropped a phone call to chat with "The Fabulous Sports Babe," heard on WHFS-FM 98.7 last night.
Cummings seems convinced Bucs rock star general manager Mark Dominik is going to take a hard look at former Falcons cornerback Dunta Robinson.
"Like everybody, you really got to think that cornerback is really on the top of their list. The real key is if there is anyone in free agency that they want," Cummings said. "I think the Falcons, in freeing up a lot of their money Friday [cutting three players including Robinson], I think means [the Falcons] are going to throw money at Brent Grimes to try to bring him back.

"Dunta Robinson is a guy I am certain the Bucs will at least look into. I feel pretty strongly that is a guy they could sign if they like what they can see.

"I think anyone you pick up in free agency you are probably going to have to give them a three- or four-year contract. I think they would look at it as a guy who can fill in for the next two or three years and kind of stem the tide a little bit and improve that spot and that allows them to develop a cornerback they may pick up in the middle to late rounds in the draft. That is one objective. That makes some sense.

"Pretty sure if they get one starting cornerback in free agency, they will try to get another starting cornerback in the draft."
This is sort of what Joe wrote yesterday. It would not be a shock if the Bucs sign two corners and draft one, or just sign one corner as a starter, draft two with one of the two slotted to start right away, and then the second corner would develop into an eventual starter.
If the Bucs are to seriously consider themselves a playoff contender, they simply must overhaul their gaggle of cornerbacks.