Mocking: Ezekiel Ansah
March 12th, 2013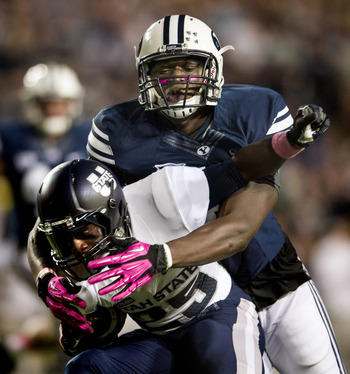 Most Bucs fans are chewing on wet towels like Jerry Tarkanian waiting for the free agent siren to sound at 4 p.m. today.
Will it be Derek Cox, or Dashon Goldson, or Sean Smith, or… Ezekiel Ansah?
Ezekiel Ansah?
Yes, it's New Year's Day of the NFL calendar year but in the world of Joe's good friend "The Commish," noted local draft guru Justin Pawlowski, it's always mock draft time.
Pawlowski has posted his recent mock draft and he has the Bucs going defensive end with the No. 13 pick.
13. Tampa Bay Buccaneers – Ezekiel Ansah – DE – BYU
Commish's Comments: The phrase "boom or bust" is a phrase often used in the NFL draft. Ansah has limited games played at BYU, and in those limited games, Ansah played all along the defensive line…even at nose tackle. Ansah is a physical freak with size (6'5" 271 lbs), speed (4.63), athletic ability (34.5″ vertical), and strength (21 reps). It's very possible that a team within the top 10 could take a chance on Ansah because of his potential, but his inexperience and the time it might take for him to fully develop could shy teams away. I'm also not as certain as others that Ansah is a good fit as an outside linebacker in a 3-4 defense. The Lions and Dolphins are possible landing spots for Ansah, but if he slips to the Bucs, I believe the Bucs should select him. With Michael Bennett likely gone in free agency, the Bucs will have Adrian Clayborn and Da'Quan Bowers as their starting ends, which might be a benefit to Ansah where he would not have to come in and start immediately. I believe the Bucs should address their secondary needs in free agency, so that their hand isn't forced to reaching on a cornerback with the 13th pick especially if Rhodes is gone. Other options for the Bucs with this pick if available are Jarvis Jones, Xavier Rhodes, Star Lotulelei, Kenny Vaccaro, and Tyler Eifert.
What has Joe been saying for months, that he has a hunch Bucs rock star general manager would target a defensive end at No. 13. Joe believes that's where Dominik is leaning slightly, given his history and how Michael Bennett may bolt for greener pastures.
Today, it sure feels like the draft is a long way away, just over six weeks.