Michael Bennett Vs. Cliff Avril
March 13th, 2013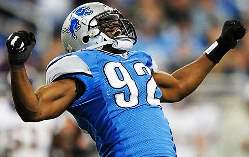 It seems the Bucs, as Joe referenced yesterday, are smitten with Lions defensive end Cliff Avril.
But is Avril an upgrade? Woody Cummings of The Tampa Tribune waded through the numbers for a clearer view.
Though Avril, 26, has recorded 29 sacks the last three years, the ESPN Insiders say he has struggled since 2010 to match the sixth-place pass-rush productivity score he posted that year.

Bennett, meanwhile, is coming off a year when his pass-rush productivity score of 71 – which is the combination of all sacks, hits and hurries – ranked ninth among all defensive players.

Avril finished 15th and 40th in that ranking the last two years respectively, but the insiders believe that may have been a result of Avril working in what they say was a predictable Lions pass rush scheme.
As Joe pointed out yesterday, he too dug through numbers and found that in the last five games of 2012, Bennett recorded but two sacks, and both of those came against the dreadful Beagles and statuesque Nick Foles.
As much as Joe harped on Bucs quarterback Josh Freeman for vanishing during key games, which cost the Bucs a shot at a wild card, Joe must be fair and point a finger at Bennett. Your best pass rusher must have more than two sacks in the final quarter of the season when you need your stud players most.
Cummings also points out another reason why Bucs rock star general manager Mark Dominik may covet Avril: He is a turnover machine, deft in stripping ball carriers.