Bennett Wants To Stay But Odds Are Grim
March 12th, 2013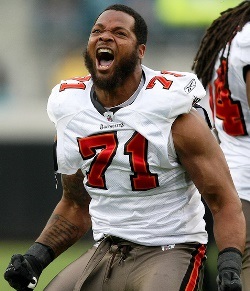 Just about every Bucs fan wants defensive end Michael Bennett to stay in Tampa. Even the unrestricted free agent Bennett wants to remain with the Bucs.
NFL economics suggest Bennett will not stay with the Bucs.
Earlier this evening, Bennett appeared on Pro Football Talk on the NBC Sports Network and admitted his return to the Bucs is much less than 50/50, so reports the creator, curator and overall guru of ProFootballTalk.com, the great Mike Florio.
Bennett, an unrestricted free agent, pegs his chances of staying with the Bucs at a low number.

"I don't know, 20-to-40 percent," Bennett said. "It's not 100 percent. It's 20-to-40 percent. I'm not sure how it's gonna play out but it's a business and hopefully the best things happen."
Here is some research Joe did using game-by-game statistics on NFL.com: Joe monitored the last five games last season and Bennett had a grand total of two sacks in those games, both coming against the Eagles.
Now Joe has bagged on quarterback Josh Freeman for not being clutch when the Bucs had a shot to make a postseason run. Well, to be fair, in some of those same games, Bennett was about as clutch as Freeman in getting the opposing quarterback on the ground.
Maybe that is why Dominik decided not to throw the bank at Bennett?