Giving Up On Arrelious Benn
March 13th, 2013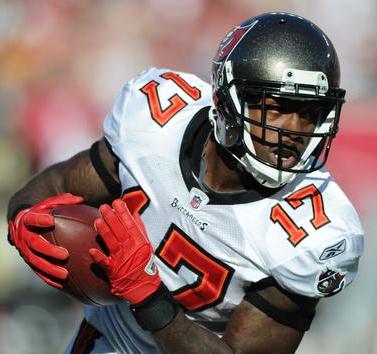 Joe remembers being mildly blasted by an insider at One Buc Palace last summer because Joe repeatedly suggested Arrelious Benn was a candidate to be cut from the Bucs roster. The source told Joe he was out of line and that the New Schiano Order was supportive of Benn and would not hold Benn's training camp absences against him.
Benn had missed most of 2012 training camp and preseason with a knee injury after colliding with E.J. Biggers and Tiquan Underwood, who was lighting up the practice field. The Bucs kept Benn and cut Underwood. But Benn was quickly phased out of the Bucs offense and Underwood was re-signed and thrived.
Now, multiple, credible reports have Benn being shopped by the Bucs, and rockstar general manager Mark Dominik must know that it would be a near miracle if he could fetch a sixth-round pick for Benn.
The case of the New Schiano Order giving up on Benn is an interesting one.
Benn is only 24 years old and was the 39th overall pick in the 2010 draft, considered one of the deepest in NFL history.
So why are the Bucs eager to part with a young player, who still has a load of potential and one who is solid on various special teams?
Joe's always been suspicious of Benn's makeup ever since Josh Freeman talked of Benn losing his mind during a game in September 2011.
"Reg kind of got in a little bit of a funk. He's a guy that takes his performance to heart," Freeman said. "You know, he's a great team guy and I felt like he felt he let the team down. The coach wanted to mix in Dezmon Briscoe, give him some plays. Reg wasn't being punished. I think that he kind of got in a funk and that's what he felt like.

"When I came back [from getting an IV] he was looking kind of blue on the sideline. I went over and started talking to him. I was like, 'Dude, what's wrong?' He's like, 'I don't know. I'm just kind of out of it.' I'm like, 'Well get ready because we're about to make a run. And we're going to need everybody …
Joe has to think that trusted Schiano confidant and former Bucs wide receivers coach P.J. Fleck just didn't think Benn has what it takes to succeed in the NFL.