Michael Bennett Is "Undervalued"
March 4th, 2013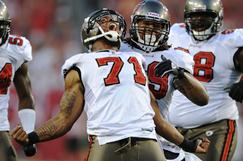 The numbers crunchers over at Pro Football Focus are trying to figure out just which Bucs were a bargain last season and which were overpaid for their services.
So it didn't come really as a shock to Joe when they deemed Michael Bennett the No. 2 most undervalued player on the Tampa Bay roster, so claims Nathan Jahnke.
2. Michael Bennett, Defensive End

If there is one thing that Bennett does well, it is making tackles for losses. In 2012 he had 13, which was second-most among all defensive linemen, behind J.J. Watt, and in 2011 he tied for the most with 10. In 2012 he improved on his pass rushing as well with nine sacks, 14 hits and 48 hurries, making him one of the most well rounded edge defenders in football. This offseason we fully expect him to get paid as such.

2012 Cap Hit: $2.7m
2012 Performance Based Value: $10.6m
Value Differential: +$7.9m
There is no question Bennett was a bargain last year but he's not a bargain to get franchised. Is Bennett work $1 million a sack? That's a pretty steep price for a guy that had good, not great numbers, though Joe wouldn't be shocked to see a defensive-needy team overpay for Bennett once the free agency dinner bell rings March 12, a week from tomorrow.
It's interesting to note that Pro Football Focus lists both Bucs free agent treasures from last winter, Carl Nicks and Vincent Jackson, as overvalued. In Joe's eyes, Nicks' rating is completely unfair since he missed most of the season with an injury.
Not shocking to Joe that Bucs quarterback Josh Freeman also made the overvalued list.