Mocking: Desmond Trufant
March 4th, 2013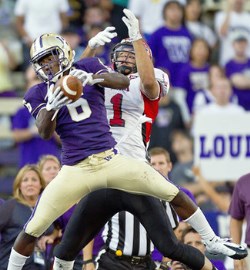 Yes, Joe will keep banging the drum that the Bucs need to add cornerbacks until Bucs rock star general manager Mark Dominik fills the barren Bucs' cornerback roster with people who can at least pretend they are NFL starters.
So after hard-working FoxSports.com columnist Peter Schrager finished interviewing scores of players at the NFL Combine — Joe always saw him front row, typing quotes from players as they took to a podium for the entire weekend — Schrager gauged who he thinks the Bucs will take at No. 13.
That would be Washington cornerback Desmond Trufant.
13. Tampa Bay Buccaneers: Desmond Trufant, cornerback, Washington

Tampa Bay hit the jackpot with its first three draft picks a season ago, nailing home runs with Mark Barron, Doug Martin and Lavonte David. Trufant's got the right blood lines — one brother plays for the Seahawks, the other plays for the Jets — and the production at the college level to be worthy of a Top 15 pick. A lock-down guy, he was a star at the Senior Bowl and ran an eye-popping 4.31 40 at the Combine. This is higher than a lot of other mock drafts will list him, but I don't think Trufant escapes the Top 20.
Yes, this is higher than most mockers have Trufant. He may be a reach at No. 13. But Joe loves this pick. He certainly has the bloodlines and the guy has the athletic skills.
It will be hard to trade down in this draft, as few teams will want to waste picks by trading up since it is such a deep draft at so many positions and short of super stud players.
Maybe, just maybe, Dominik repeats what he did last year and trades up from the second round into the late first round to nab Trufant?