Derek Cox And The Bucs
March 4th, 2013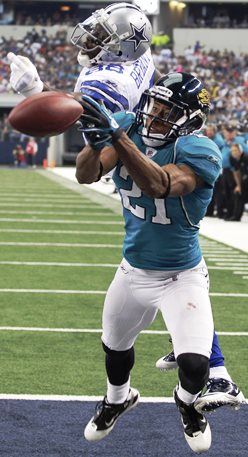 Joe often wakes from a nap or a deep sleep in a cold sweat after a nightmare in which the Bucs' version of Deion Sanders and Rod Woodson, the Adderall Twins, are still starting at cornerback in 2013.
That's very unlikely to happen, thankfully, but that means the Bucs are beyond desperate for cornerbacks. The Bucs corners were dismal last year; Joe wouldn't be bothered one iota if Bucs rock star general manager Mark Dominik pulled a Bill Walsh and drafted four cornerbacks next month in the draft.
Joe's going to guess Dominik drafts two corners and signs as least one corner in free agency. Joe's good friend and draft guru, "The Commish," Justin Pawlowski, has been putting in the research, calling his contacts and doing the math, and he believes Jaguars cornerback and free agent Derek Cox will be wearing pewter and red this season.
With all of those players mentioned in a very deep free agent corner class this year, I believe, from the rumblings I've heard, the Bucs' top corner target in free agency this year could be Derek Cox of the Jaguars.

Cox, 26, is one of the best cornerbacks that not many people know about. Cox has a nice blend of size (6'1" 195 lbs) and speed (4.39) and is very good in press and man coverage.

The Bucs new defensive backs coach, Tony Oden, spent 2012 with the Jaguars and knows the type of player Cox can be.
Pawlowski, however, points out that Cox was often hurt, a fact Joe dove into a couple of weeks ago. The Bucs need a guy who they can count on.
Given the Bucs' need for corners, and Oden's experience with Cox, Joe believes Pawlowski is on to something here. And even if he cannot play a full season, Cox likely be an upgrade over Eric Wright and, to be honest, a lamppost is an upgrade from Aqib Talib.