Michael Bennett In No Rush To Sign
March 11th, 2013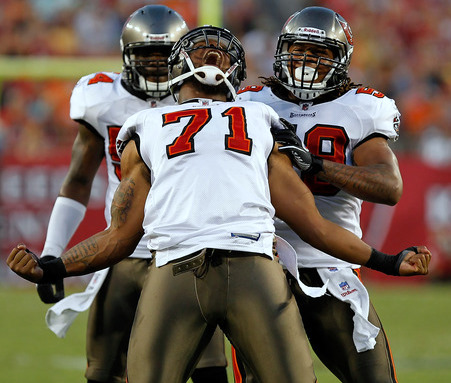 Joe has to give Bucs defensive end Michael Bennett some props. While perhaps not a professional negotiator, he either has a keen instinct about jockeying for a new contract, or he has been coached well..
Just after he spoke on the "Gary and The Commish Show" heard on WHFS-FM 98.7 this morning, Woody Cummings of the Tampa Tribune got a hold of Bennett for follow up questions.
Specifically, will he sign when the gun to start free agency is shot off tomorrow at 4 p.m?
"A lot of teams have called already," Bennett said. "So we'll see what happens. But I'm not in a hurry. This is a big decision for me. I'll probably take a couple days to decide."
This is just downright smart on Bennett's part. The longer he waits, so long as it isn't a month, likely the higher the bidding goes for his services as teams start panicking that he will re-sign with the Bucs, or sign elsewhere.
But also, waiting means his chances of coming back to the Bucs is far less than the 40 percent chance he proclaimed this morning.
As for Bennett's radio interview, here is the full version.