Bennett: I'll Give The Bucs The Chance To Match
March 11th, 2013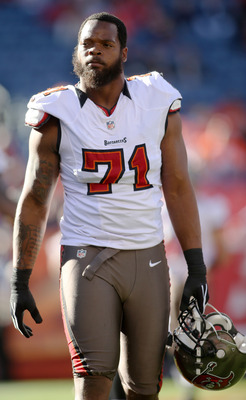 The Bucs' best defensive end wants to return and will offer the Bucs every chance to re-sign him, so he told the "Gary and The Commish" show on 98.7 FM this morning,
"I'll give the Bucs the chance to match any offer I get. I love the Bucs and want to finish [my career] here," Bennett said.
Bennett said at least eight teams have talked to his agent about signing him when the free agency bell rings Tuesday.
As Joe has written multiple times, Bennett confirmed he is personally close to former Bucs defensive line coach Keith Millard, who is now the pass rush specialist for the Tennessee Titans, a team seeking a premier defensive end.
Bennett said he'd love to be around Millard again and that he and Millard were in touch during the Bucs' regular as Bennett sought Millard's guidance and breakdowns of Bennett's film.