Joel Glazer: Lay Off Josh Freeman!
March 20th, 2013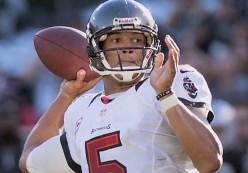 The second favorite subject among Bucs fans is lauding/crucifying Bucs quarterback Josh Freeman.
Some fans believe Freeman is the Bucs version of Dan Fouts. Others believe Freeman is the Bucs version of Matt Cassel. Freeman is a polarizing figure.
All Bucs fans want him to succeed, but the divide is among fans who believe/disbelieve he can carry the Bucs to January football.
When Bucs co-chairman Joel Glazer had his annual meeting with the pen and mic club yesterday from the NFL owners meetings in Arizona, Glazer came to his quarterback's defense and explained that those blaming Freeman for the Bucs' collapse down the stretch are being unfair, so writes eye-RAH! Kaufman of the Tampa Tribune.
Speaking at the NFL owners meetings Tuesday, Glazer said ownership remains fully committed to quarterback Josh Freeman, pointing out several late defensive lapses that cost the Bucs during a 7-9 season marked by a December slide.

"We still have great confidence in Josh," Glazer said. "Quarterback is a critical position, but quarterbacks can't do it alone. There are a few games you can look at last year when we were in a comfortable position and defensively, we may have let down.

"Josh had some great moments last year – and some moments he'd like to have back. We want to take the pressure off of him defensively, and that's what we're working on. Nobody works harder than Josh Freeman, and he obviously has the talent. He threw for 4,000 yards and had a lot of big games. Let's play some better defense and take some pressure off of him."
While Joe cannot quibble with anything Glazer said, his premise is an example of the great divide among fans. There are legions of Freeman supporters who point to the very facts Glazer cites to explain why the Bucs (again) didn't make the playoffs last season.
Then there is the faction that believes a good NFL quarterback puts his team on his back and overcomes obstacles to lead them to a playoff berth.
That's why the Freeman tug-of-war between Bucs fans won't soon die down until at least the 2013 season kicks off.