How Will The Bucs Value The Tight End Position?
March 20th, 2013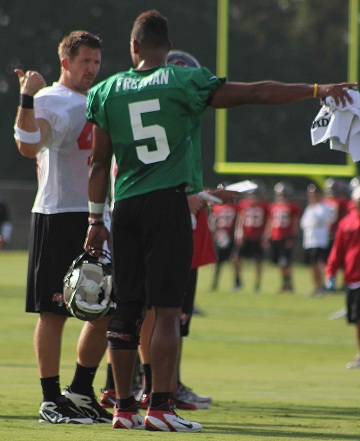 Yes, rockstar general manager Mark Dominik and offensive coordinator Mike Sullivan have been adamant that the Bucs are not running the Giants offense Sullivan mastered in New York for years.
But there are undoubtedly similarities. So Joe's wondering whether a devalued tight end position is one of them.
After former Giants tight end Jeremy Shockey got hurt late in the 2007 season and was jettisoned after it, the Giants didn't do much at tight end. They trotted out immortals Kevin Boss and Jake Ballard over the next four seasons en route to another Super Bowl victory.
For the 2013 offseason, the top free agent tight ends are off the board and the Bucs signed 18-career-catch TE Tom Crabtree from the Packers to join Luke Stocker. Dallas Clark, who caught 47 balls from Josh Freeman last season, remains in limbo. Joe hasn't heard even a hint of a rumor about Clark's future.
Might the Bucs be eyeing a massive upgrade at tight end in the NFL Draft?
Joe would bet against it, only because Joe's really not sure the Bucs value a pass-catching tight end so much in this offense.
Perhaps a mid-round tight end could be an option. Former Bucs TE Anthony Becht told Joe that Vance McDonald (6-4, 267) out of Rice was one tight end he was preparing for the combine and gave the kid a hearty endorsement. Rice is widely projected as a third-round pick.
Frankly, Joe would be pleased to see Clark return. The Bucs' tight end rotation was not a weakness last season, and Freeman's confidence in Clark appeared to grow significantly late in 2012.