No "Momentum" On Revis, Glazers "Support" Bid
March 19th, 2013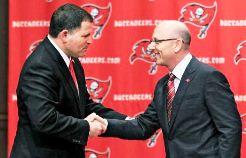 For those praying for Darrelle Revis' arrival in Tampa, the latest this evening on the Revis happenings, courtesy of TampaBay.com Bucs beat writer Rick Stroud, might throw you into a depression.
Speaking on WDAE-AM 620 from the NFL owners meetings after a face-to-face session with Team Glazer, Stroud said there's "not a whole lot of momentum for that deal right now."
But Stroud did offer that rockstar general manager Mark Dominik and Greg Schiano will have the blessing of their boss. "[The Glazers] will support whatever the GM and the coach say needs to be done."
Stroud went on to say Brent Grimes' agent confirmed the Bucs' interest in his cornerback client since the start of free agency.
Joe remains quite confident the Bucs will acquire Revis. Though with the historically unpredictable Jets involved, one can never be sure.