Darius Slay A Sleeper At Corner
March 28th, 2013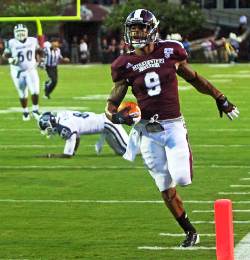 OK Bucs fans, the NFL draft begins four weeks from tonight. Time for Joe to start focusing a bit more on the draft.
Earlier today, Joe brought a video from his good friend, "The Commish," Justin Pawlowski of WHFS-FM 98.7. Each weekday late afternoon/evening, Joe will try to bring a potential prospect Bucs fans may be interested in, heavily focused on cornerback which is a crying need for the Bucs.
Now a lot of Bucs fans have pointed to Johnthan Banks, a corner at Mississippi State, who may fall to the Bucs in the second round. (Joe emphasizes, "may.")
All the attention on the Mississippi State product may be taking the spotlight off his teammate who just may be a big time sleeper, that would be fellow cornerback Darius Slay.
Now if Bucs rock star general mananger Mark Dominik is looking for a well-rounded athlete, Slay is the guy. He was a basketball and track star in high school and started 12 games his first year on the Starkville campus.
Slay is known as a tough guy who is able to use his hands to battle receivers and force incompletions though at times he can get worked with speedy receives.
Dominik has stated the crop of corners is three rounds deep. Joe firmly expects Dominik to draft two corners. Might Slay be the second corner off the board for the Bucs?