Dotson Signing About Depth
March 29th, 2013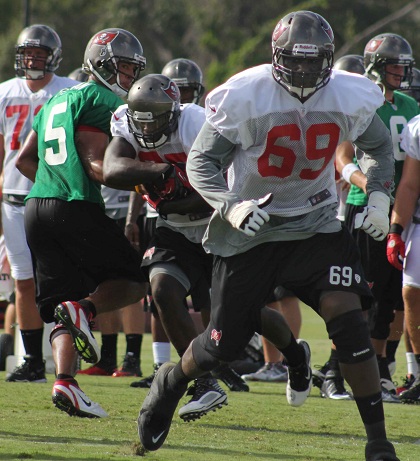 Yes, the Bucs inked Demar Dotson through 2016 yesterday. (No, Joe doesn't know how many years are guaranteed.) But Joe is confident this move is about depth more than an anointing of Dotson at right tackle.
The Bucs are well aware of Dotson's shortcomings and considering the New Schiano Order and rockstar general manager Mark Dominik are always talking about the importance of competition, surely another promising right tackle will find his way to the Bucs. Considering Dominik has only drafted one offensive lineman in four years and has said he prefers O-linemen who have shown they can adjust to the pro game, even if only in preseason, Joe's sure Dotson's competition/replacement will come via free agency or the waiver wire.
Bucs fans may have forgotten Dotson was the backup left tackle last season and in years past. Raheem Morris even tried to sell the media on Dotson's ability as a starting left tackle during Donald Penn's holdout of 2010.
Joe doesn't doubt Dotson's versatility, as well as his ability to continue to develop under Bob Bostad. But Joe would hardly be surprised if Dotson starts the season as the first man off the bench in case Penn or a new right tackle gets hurt.