Bucs Make Move To Secure Offensive Line
March 28th, 2013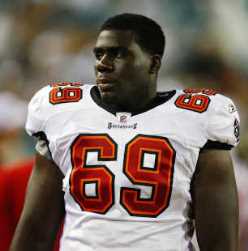 OK, you Bucs fans who have been tossing lamps against the wall at home and drop-kicking the cat because Bucs rock star general manager Mark Dominik hasn't made many moves since signing safety Dashon Goldson, your day has been made.
In the shadows of the inner-workings of the NFL, it seems the Bucs made a move to secure their offensive line for the near future.
It appears Demar Dotson got a contract extension.
Per someone by the Twitter moniker of @Jason_OTC, he noticed NFLPA records that shows Dotson is on the books for the next three years.
@Jason_OTC: Not sure if I just completely missed this the other day or not but it looks the #Buccaneers signed T Demar Dotson to a 3 year extension … Per NFLPA records base salaries for Dotson are $1 mil in 2013, 1.25 in 2014, 1.5 in 2015, and 1.75 in 2016
Per Rotoworld.com, Dotson was about to enter the final year of his two-year contract.
So Bucs fans can quit hollering about filling a hole on the offensive line. That hole has now been filled.
See, Dominik is doing something.