Bucs Sign Defensive Tackle Derek Landri
March 30th, 2013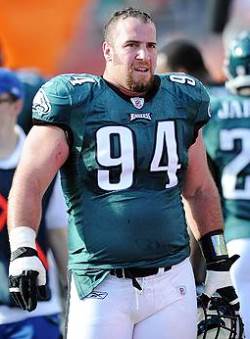 Who said Bucs rock star general manager Mark Dominik is taking the Easter weekend off?
Per ProFootballTalk.com scribe and current reporter for RavensInsider.com, Aaron Wilson, Dominik signed Eagles defensive tackle Derek Landri.
@RavensInsider: Derek Landri has agreed to a two-year, $3.25 million contract with the Tampa Bay Buccaneers, per a league source.
Now whether Landri is the starter for the Bucs this fall remains to be seen. If you go by the numbers, he's a Roy Miller clone. Landri hasn't had a sack since 2011 and had but 13 tackles in 16 games last year.
Sounds more like a signing for depth to Joe than anything else.
"Keep calm."