Brent Grimes Not With Bucs Not A Surprise
March 31st, 2013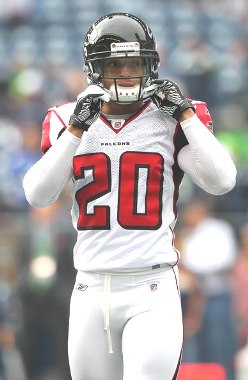 Hey, Joe was like most Bucs fans when the free agent dinner bell rang not quite three weeks ago: Go get Brent Grimes!
Joe beat the drum as much as Bucs fans. The woeful collection of Bucs corners desperately needed an upgrade; even Bucs rock star general manager Mark Dominik noted this on SiriusXM NFL Radio. He wasn't blind.
Hours sent by. Days turned to weeks. The clock continued to thump along. Yet the Bucs made no move towards Grimes, coming off an ugly Achilles heel injury.
Then Joe started to hear rumors. One that stuck in Joe's head was that Grimes, who is but 5-9, was known for defending much taller receivers with his leaping ability. That skill apparently, Joe heard, was lost with his Achilles injury.
Joe wasn't the only one hearing stories. eye-RAH! Kaufman of The Tampa Tribune had traveled to the Valley of the Sun for the NFL owners meetings and while mingling with agents, coaches and fellow writers, gathered intelligence about Grimes as well, as he Twittered early last week.
@IKaufmanTBO: Some of the things I'm hearing about Brent Grimes suggest he wouldn't make the grade as a Buccaneer Man for Greg Schiano. Scratch him
So when Joe learned yesterday that Grimes signed with the Dolphins, Kaufman's words — and Joe's source — proved to be prophetic.
As Joe has written countless times before, it is clear Dominik did/does not value what is out there on the market for free agent corners, certainly not what they were asking.
If the Darrelle Revis swap falls through, surely Dominik has a Plan-C. He's not a foolish man. Joe's pretty sure Dominik believes Eric Wright and two top-tier drafted cornerbacks are as valuable as the current free agents walking the sidewalks with resumes in hand.