"Keep Calm"
March 30th, 2013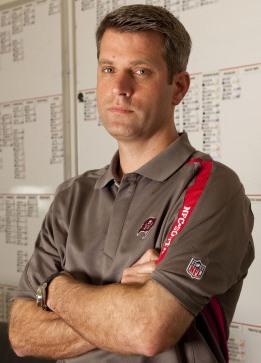 Yes, in case you didn't know it, free agent cornerback Brent Grimes and his bad Achilles signed a deal with the Dolphins this morning.
And, as can be expected, Bucs fans took to Twitter to lodge grievances at Bucs rock star general manager Mark Dominik for sitting on his hands and not doing anything, in their eyes, to upgrade one of the worst cornerback groups ever to stain an NFL field.
The past few weeks should have braced Bucs fans for Grimes heading elsewhere. Notice Dominik hasn't made any strong push for any cornerbacks walking the sidewalks, not even one of his own, E.J. Biggers?
This told Joe that not only did Dominik think little of the free agent cornerbacks crop, he felt he would be better off keeping troubled Eric Wright and drafting a couple of corners than signing overaged, damaged corners for high prices.
Dominik said last week on SiriusXM NFL Radio, and has stated this several times the past year or two, that if there is a player he thinks can come in and improve the Bucs, he would be aggressive in bagging said player, like Dashon Goldson, like Vincent Jackson, like Carl Nicks.
Dominik has not been remotely aggressive in landing a free agent corner this offseason. Do the math.
As the Bucs' Facebook page famously told Bucs fans just a few days ago, "Keep calm."
Perhaps, Darrelle Revis is on his way?