Bucs Shopping Arrelious Benn
March 11th, 2013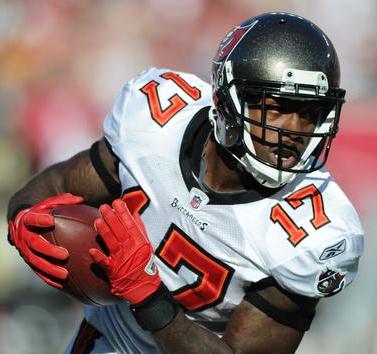 If there was every a player Joe felt badly about, aside from Brian Price, it is Arrelious Benn.
A second round pick from Illinois, Benn was going from a spread-option offense to a normal NFL offense, which is like learning a new language, and just when it appeared Benn had turned the corner as a rookie and proved to be playing at the level of a second-round pick, he blew out his knee.
Benn has never been the same.
Well, Benn may have played his last game as a Buccaneer. Per all-around good guy Jason La Canfora of CBSSports.com, Bucs rock star general manager Mark Dominik is shopping Benn around the NFL.
@JasonLaCanfora: On a day in which we've seen two WRs dealt-Percy Harvin and Anquan Boldin – the Bucs are shopping another, 2010 2nd rnd pick Arrelious Benn.
The sad thing about this is most Bucs fans, unfortunately, think of that godawful Benn'd-Around play when his name comes up.
Benn is truly one of the good guys on the Bucs. If he's not with the team this season, Joe hopes he has success. Joe always roots for the good guys.
Frankly, if this is the only way to rip that friggin' Benn'd-Around play out of the Bucs' playbook, so be it.
If the Ravens can only get a sixth round pick for a stud like Anquan Boldin, Joe's not sure what Dominik thinks he can get for Benn.