Where Are You, Ronde?
March 11th, 2013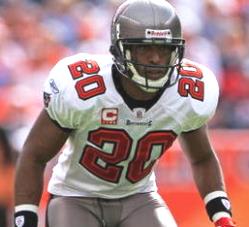 Joe's definitely somewhat surprised by the silence from the Ronde Barber camp.
The free agency bell rings at 4 p.m. tomorrow. It's almost unfair to the New Schiano Order if Barber doesn't tell the team his 2013 intentions before that time.
Where are you, Ronde? And why do you need more time?
After the Bucs beat up the Falcons in Atlanta to close 2012, Barber had nine weeks to consider whether or not he wanted to return to the Bucs for his 17th season. His annual sit-down with rockstar general manager Mark Dominik and Greg Schiano was Thursday, and the Bucs told the world they wanted Barber back, but Barber asked for more time.
Joe wonders what the hold up really is?
Did the Bucs lowball Barber? In 2011, he earned $4 million. In 2012, he earned $3 million. Are the Bucs trying to kick his salary down again?
Was Barber not guaranteed a starting job, like he was last year at free safety? If so, Barber has such a competitor's mentality, and has said in the past he thrives on the doubt of others, Joe would be shocked if a win-your-job role would deter Barber.
Is Ronde feeling out broadcasting offers before deciding on his playing future? Tiki Barber implied last week that Ronde was considering other job opportunities.
Joe has to believe an answer on Barber is coming tomorrow. Joe knows Barber loves his team, and it's in the Bucs' best interest to know where Barber stands ASAP.