"Keep Calm"
March 28th, 2013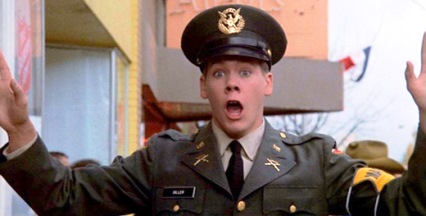 It's almost like the parade scene in the final moments of the comedy classic "Animal House."
Bucs fans are outraged as they see rivals sign valuable players who may have helped the Bucs. Whether it is Leon Washington with the Patriots, the Dixie Chicks signing Osi Umenyiora or the Saints signing a pair of understated yet talented cornerbacks, the Bucs, since the first day of free agency, remain quiet.
Yes, the Bucs signed stud safety Dashon Goldson, which was fantastic, but Bucs fans see the crater (not hole) at cornerback and cannot fathom why Bucs rock star general manager Mark Dominik has not signed anyone with a pulse to play corner.
Ah, such is life in the age of video games and fantasy football where only a click of a button brings you a player.
Yet through the din of pounding fists, like the cop in the aforementioned "Animal House" scene, a voice of reason softy cries out, in so many words, "Remain calm."
That is the Bucs' Facebook page.
The powers that be at One Buc Palace have heard the angry, desperate pleas of player transactions and have issued a statement. On the Bucs Facebook page, is a poster of sorts pleading with Bucs fans to remain patient.
KEEP CALM
AND
LIVE
THE
BUCS
LIFE
There is a point to all of this. The draft is less than a month away. The Bucs are five months from kicking off the regular season. There is plenty of time for Dominik to upgrade the corner position as well as the defensive line.
But Bucs fans, this is evidence the Bucs brass hears your cries in the dark of night.