"Honey Badger" Visits The Bucs
March 31st, 2013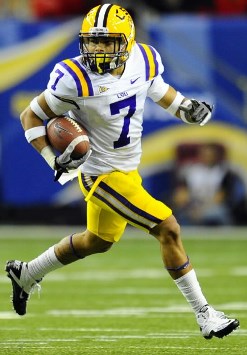 While most people were trying to find a warm spot somewhere in the Western Hemisphere to go on spring break, Bucs rock star general manager Mark Dominik and his staff were busy inviting college prospects to One Buc Palace for private workouts and interviews.
One of those players appears to be the Honey Badger himself, Tyrann Mathieu, the former LSU stud defensive back/return man who had troubles with the hippie lettuce.
WalterFootball.com has a list of those who they have learned entered One Buc Palace for visits. Thislist is incomplete as each NFL team is allowed up to 30 visits.
The roster of players coming through Tampa so far has been:
Kiko Alonso, LB, Oregon
Le'Veon Bell, RB, Michigan State
Mike Catapano, DL, Princeton
Gavin Escobar, TE, San Diego State
Marquise Goodwin, WR, Texas
Margus Hunt, DL, SMU
Lane Johnson, OT, Oklahoma
Corey Lemonier, DL, Auburn
Tyrann Mathieu, DB, LSU
Vance McDonald, TE, Rice
Brendan Melanophy, DB, Fordham
Christine Michael, RB, Texas A&M
David Quessenberry, OL, San Jose State
J.C. Tretter, OL, Cornell
Desmond Trufant, DB, Washington
Brian Winters, OL, Kent State
Now this doesn't mean the Bucs will only draft players from this list. As usual, there are smokescreens involved. But given the fact each team is limited to a specific number of visits, it demonstrates that the Bucs are interested in the Honey Badger.
A couple of other names jumping out at Joe are cornerback Desmond Trufant, offensive tackle Lane Johnson, who may be one of the most underrated linemen in the draft, tight end Gavin Escobar and bruising running back Le'Veon Bell.