Josh Freeman And The Super Bowl
March 11th, 2013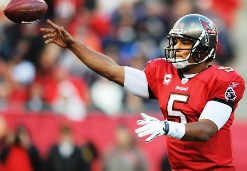 One of the greatest quarterbacks to ever take an NFL field Dan Marino, showed up in the Tampa Bay area Saturday and was interviewed by WTSP-TV Channel 10 sportscaster Bobby Lewis (sorry, if there is video, Joe cannot find it on the station's site).
In the interview, Marino actually used the term "Super Bowl" in the same sentence as Bucs quarterback Josh Freeman and it had nothing to do with buying tickets.
Marino believes Freeman could lead the Bucs to the NFL's biggest stage.
"I think he has the talent that someday would be in position to get to the playoffs," said Marino, and NFL analyst for CBS Sports. "If the talent comes around, he could get them to a Super Bowl."
Here's the thing from Joe's perspective: Joe has heard Bucs rock star general manager Mark Dominik talk about getting Freeman toys — perfectly understandable and logical. But at what point does the Bucs' braintrust say, "You know, many quarterbacks don't have all these toys and still get their teams to the playoffs."
Were the Redskins that loaded on offense this past year? Was Seattle? Cincinnati? Hell, Aaron Rodgers would love to have as many weapons as Freeman has, not to mention the offensive line the Bucs have.
Sooner or later, if Freeman continues to be an up-and-down quarterback, it will be time to stop blaming his offensive and defensive teammates for a subpar record.
In case it's been forgotten, this season will be a contract year for Freeman. If he wants a massive payday, he better somehow dial it back to his 2010 form, not 2011 or 2012.