Xavier Nixon And The Bucs
February 23rd, 2013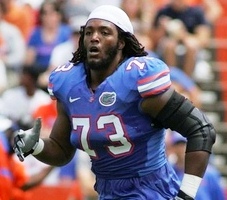 In the spirit of fairness, Joe will write about a Gators prospect the Bucs may desire.
Joe wouldn't be shocked if the Bucs drafted an offensive tackle in either of the first two days of the draft. At best, Demar Dotson is starting caliber. He is good on pass blocking but run blocking is not a strength and we all know Greg Schiano likes to run the ball with Doug Martin. Also, Donald Penn isn't getting any younger.
Now Gators offensive tackle Xavier Nixon is not expected to be drafted in the first day and maybe not the second day. But Nixon believes he is versatile, which always intrigues a general manager.
"My preference is tackle, either one," Nixon said to reporters Friday. "But I can swing inside if need be, I'm willing to play wherever the team needs me to play."
Nixon comes from a solid family base, a good guy. His father recently retired from the Army and his mother is stationed in Louisiana. He believes thediscipline he learned from his parents is a good chunk of the reason he is at the NFL Scouting Combine.
"All the values I learned coming up, integrity honesty and hard work, it transfers into football and into life," Nixon said. "It's always good to have those traits."
Again, Nixon has all the tools and talents to be a decent lineman, but he must be more consistent. As Joe stated yesterday about Ricky Wagner, Joe trusts Bucs offensive line coach Bob Bostad to turn a guy like Nixon into a valued player.