Mark Dominik Talks To Joe
February 23rd, 2013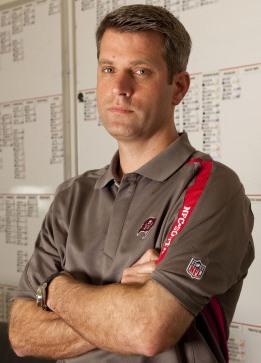 Bucs rock star general manager Mark Dominik is busier than Santa Claus on Christmas Eve today. Many players the Bucs have their eyes on will be working out for all the NFL scouts and coaches at Lucas Oil Stadium in Indianapolis during the NFL Scouting Combine. Dominik was gracious enough to give Joe a few moments to discuss the draft during a jam-packed day.
JoeBucsFan: Mike Mayock, draft guru for NFL Network, says there are three tight ends who are basically clones of each other and those three could be drafted from the first round to the second round. Is that accurate?
Mark Dominik: I wouldn't say that just yet. I think it is a little early to say that. We are just getting the medical back now. We are in the middle of the interview process. Today is a big day. How they perform today and certainly during their pro day. Then there are the individual meetings with the club. I think there is talent in the tight end pool here. I would say that. I would say it is rare for three tight ends to go in the first round. I haven't seen that a lot in my history. I would have to go back and look but I don't recall three tight ends going in the first round. The good news is there is talent in this draft and that is why I think we are in a good spot at No. 13 because there are different positions that bring an element that we could have an interest in. That's why whether you are picking six or 13, I think we are in a good spot to be in this year comparatively to other draft classes.
Joe: How important is the combine? Packers coach Mike McCarthy said yesterday his team has had their draft board set over two weeks ago. Bill Parcells regularly downplays the combine. What is your take on the importance of the combine?
Dominik: I think the combine brings two things that are really ultra-important. One is the medical and two is the personal interaction with the players. You only get a little bit of time but these interviews are where you decide whether you want to bring them back to your building. You have the 30 players you are allowed to bring in. You get through these interviews and you say, 'I need more time with that guy,' or 'I need more time with that guy because I want to reinforce what I believe.' I would say this: we are different. There is no way my draft board is set right now. Not a chance.
Joe: 49ers coach Jim Harbaugh said yesterday about player interviews at the combine, 'some players you can get a read on them right away and others, no way.' Is that about right?
Dominik: I think that is important. Time is everything at this level. The more time you can spend with somebody the more time you can get a feel for all different things. What are they going to be on the field? What are they going to be off the field? How do they learn? What way do they learn best? Those things are so important; you wish you can have more visits even at your own facility. That is why you have to take your time and sift through all the information and get the right guys in on your 30 visits. With us, we bring in guys that we think as much of as a first round [pick] as we do an undrafted free agent.
Joe: Recently, it was learned the NFL is looking to change its offseason schedule with the combine in March and the draft in May. What is your reaction?
Dominik: I will let Roger [Goodell] figure out what he's going to do. I will say this: It's a long offseason already. [The proposed new offseason schedule] will make it an even longer offseason. Everything is pushed back. But at the end of the day, if that is what is best for the league, we are all for it.