The Task Of Improving Josh Freeman
February 23rd, 2013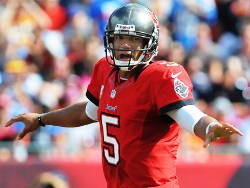 Aside from fixing and replacing what was a horrid cast of cornerbacks that will live in NFL infamy, the next order of business for the Bucs is fixing Josh Freeman.
Now, the stat dudes and the sophists will point to Freeman's franchise-setting numbers. Fair point, but stats don't win football games and Freeman's inaccuracies and inconsistencies all but Pearl Harbored the Bucs chances of playing in January.
Top shelf NFL quarterbacks don't toss four interceptions against the drek that was the Saints defense last year.
As one can imagine, Bucs coach Greg Schiano's top task is getting Freeman over the hump and into the NFL's elite, as he explained Thursday to Joe and a gaggle of reporters at the NFL Scouting Combine.
"Just as we do with every guy on our team, we have a specific plan to help them get better. And we visited with all our players before they left at the end of the season and there are certain things that we thought would be good for Josh to do in this down time," Schiano said. "And that's one of the things people say, 'what's the biggest difference,' well one of the big differences between college football and the NFL is, you don't get to see the players that much. They left after the last game and now we're in February and other than a few guys that pop through the building, you don't see them. But before he left, we talked about things and I think he will continue to continue to make improvement in going through the installation of the offense, a better understanding and do all that we can to develop all the players on our roster as well as go out and pursue players I free agency and the draft and so we're going to surround Josh with better player and he's going to get better as our whole team is and as I said, I believe he's going to lead us to where we want to go."
The offense under coordinator Mike Sullivan is a bit complex. It's why Mike Williams was so adamant that receivers had to be on the same page as Freeman.
Joe's going to guess that having a full offseason to work in Sullivan's offense, and being in that offense for a second season, will work wonders for Freeman's decision-making if not accuracy.