Baron Of Berlin Coins New Word
February 24th, 2013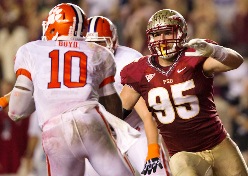 Leave it to a newcomer to America to add to the nation's vocabulary.
One of the more entertaining interviews at the NFL Combine so far for Joe was when the Baron of Berlin, defensive end Bjoern Werner, took to a podium yesterday.
(No, Joe had nothing and wanted nothing to do with the mob scene around that freak/liar who has imaginary girlfriends on Facebook. You should have seen the stampede to the podium when it was announced the freak was about to speak. You would have thought they just announced there were only five more sandwiches left.)
When Werner spoke, at times, Joe thought he was watching an old Dana Carvey routine on Saturday Night Live. Werner was funny, charming, and could barely contain his excitement when he talked about drilling ballcarriers.
You know how someone reacts when they are eating a dynamite steak or have just had a spoonful of the best bread pudding known to man, when they smile and shake their head in satisfaction, licking their lips? That's exactly how Werner reacted when talking about burying quarterbacks.
It is then that he coined the word about football as a "mansport."
Werner said he thinks what attracted him to football while growing up in Germany, "I just love the physicality of it. They would take big guys out of soccer because they are hurting people. But with football, it's such a mansport. You line up against another guy and who is going to be the strongest guy? It is just an amazing game. The physicality, the mental conditioning. Can you do it once or can you do it 50 times in a game?"
Werner said he was also drawn to the game because, in short, weaklings are not welcome.
"Maybe because [football is] such a masnsport," Werner said. "We don't have a mansport like that like [in Germany], not like in America where there is hockey. Maybe people liked it because, wow, men hitting each other and decleating everybody and maybe, I can't explain it, why I love it."
Mind you, Werner said this while beaming, shaking his head, and at one point, Joe thought he was about to drool talking about pounding an opponent.
Now Werner, who Joe thought was rather small for a defensive end — E.J. Manuel appeared bigger than Werner — is not expected to be laying there at No. 13 when the Bucs pick in the first round.
Some mocks have Werner falling to No. 10 or No. 11. If that is the case, Joe wonders if Bucs rock star general manager Mark Dominik would make a play for Werner and pull off a trade?