Smoke Screen Or Bad Blood?
February 26th, 2013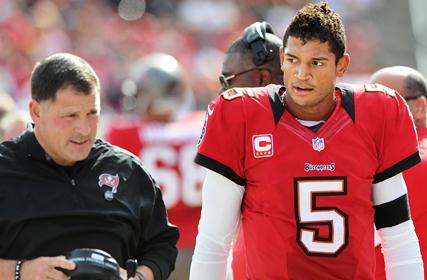 Increasingly controversial CBSSports.com senior NFL writer Pete Prisco is not backing off his Monday Twitter claim that Josh Freeman and Greg Schiano are not fond of each other.
Speaking yesterday on 98.7 FM to co-host and former Buccaneers defensive tackle Booger McFarland, Prisco explained that he was told of a strained relationship between head coach and quarterback from various sources at the NFL Scouting Combine.
"It's not warm and fuzzy like they might want to portray it as. Let's put it at that," Prisco said. "And I've heard it from a bunch of different people at the combine and ran it by some others I knew and would know. Yeah, it's not a great relationship. And, you know, there's actually rumblings that the Bucs are looking to draft a quarterback."
First, Joe must say up front, Why does it matter whether Freeman and Schiano like each other? It's not like Schiano is calling plays. And there are plenty of successful coaches that had strained relationships with their QBs.
Any Bucs fan could have expected that Schiano would come to Tampa and not be married to Freeman and/or feel like he has to be close to him or baby him.
For Joe, when Schiano set up a punt against Philadelphia to put the game in the hands of his heinous secondary, that was a clear sign Schiano had issues with Freeman.
Of course, there's also a chance that the Bucs are spreading smoke screens around the NFL to help put them in position to trade down in the draft and use the extra pick to later trade up. Then there's always the off chance that Schiano hates Michael Jackson.