Physical, Prepared Dee Milliner Ready For NFL
February 26th, 2013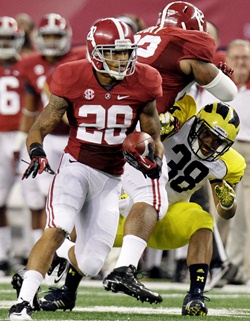 If 70 percent of football is preparation, then Dee Milliner will make a fine NFL player.
The charismatic Alabama cornerback took to the podium at the NFL Scouting Combine this past weekend and wowed reporters with his confidence, his attention to detail, presenting himself as unsatisfied by just being the best college cornerback; he's always looking to improve.
During his downtime, Milliner admitted to watching Mississippi State and Florida State games because he knew Johnathan Banks and Xavier Rhodes were close to his equal and he wanted to find out if the two were using some strategies he wasn't.
"Anytime they've got a game and we ain't playing or we've got a game later on, or we got a game early and they play at nighttime, you always got to look at them, check them out," Milliner said. "That's guys you know you're going to eventually go up against and eventually you become friends with them because you know you're going to run into them at things like this.

"You just always want to get a good relationship and a good feel of the people you know you're going to go against and see at your position."
It wasn't just Banks and Rhodes, of course Milliner watched the NFL, too. And unlike in the NCAA, where a corner might get a 15-yard penality for a perceived bad hit or late hit, in warden commissioner Roger Goodell's NFL, good, physical hits will more likely get you run out of the league rather than lauded. Milliner said he knows he must be mindful and how he drills a receiver — and who — on the NFL level.
"You have to watch yourself nowadays," Milliner said. "If you have late hit, better be ready to give some cash up. But it doesn't change me as a player. This is a physical game. You just have to watch yourself and be careful when you are making plays on the ball."
It sure seems like Milliner has everything you would want mentally in a cornerback. The question is, if he slips to No. 13, does Bucs rock star general manager Mark Dominik take him?
Joe has been told over and over again this past weekend that while there really are no top shelf corners, the draft is very deep, three rounds deep, in corners.
It is very possible that Dominik waits to the second round where it is possible Banks will be sitting at No. 45.
And there is always that chance Dominik could use the fourth-round pick stolen from the Patriots for Aqib Talib to trade up from No. 45 for Rhodes.